September 17, 2020 at 5:00 am ET
Our ongoing research on U.S. holiday shoppers reveals that the convergence of trends begun in years past and catalyzed by the coronavirus in 2020 may lead to the demise of Black Friday as we knew it. Brands and retailers relying on this annual shopping holiday – and the foot traffic that has historically accompanied it – now need to plan for increasingly digital and dispersed holiday seasons.
This analysis was authored by Victoria Sakal, Morning Consult's managing director of Brand Intelligence.
2020 finds 52 percent of Americans planning to sit Black Friday out this year, the once-classic occasion that kicked off the holiday shopping season for U.S. consumers, with only 12 percent expecting to shop in-store. This moment is the culmination of a combination of factors – all trends accelerated by COVID-19: an earlier start to holiday shopping reflecting consumers' experiences with stockouts and delayed deliveries since the start of the pandemic, a desire to avoid crowds given extreme health concerns and increased adoption of online alternatives just as Black Friday, Cyber Monday and Cyber Week have begun to blur together in recent years.
Setting the scene: online adoption, sooner starts and health-related hesitations
Americans generally tend to shop about equally online and in-store, but this shifts in favor of online shopping around the holiday season – a shift expected to be particularly pronounced this year. Forty-seven percent of U.S. adults plan to do most of their shopping online (up from 45 percent in early August, on par with the most recent poll result) while nearly a third, 31 percent, plan to split their holiday shopping between online and in store (down from 34 percent in early August) and 22 percent (no change) plan to do the majority of their holiday shopping in stores. 
Those planning to shop mostly online cite pandemic-related safety concerns as a reason (48 percent), though convenience is the primary reason for nearly a third (29 percent) and preference for online shopping driven by increased use of this method in recent months is the reason behind this online shift for over a fifth (21 percent).
Unsurprisingly, the vast majority of American shoppers have health- and safety-related concerns this holiday shopping season. No differences in the degree of concern around crowded quarters and safety risks exist across consumer types and demographics, confirming that these are universal and deeply-felt, in turn fueling a shift to online shopping not seen before, and certainly not expected to happen in 2020.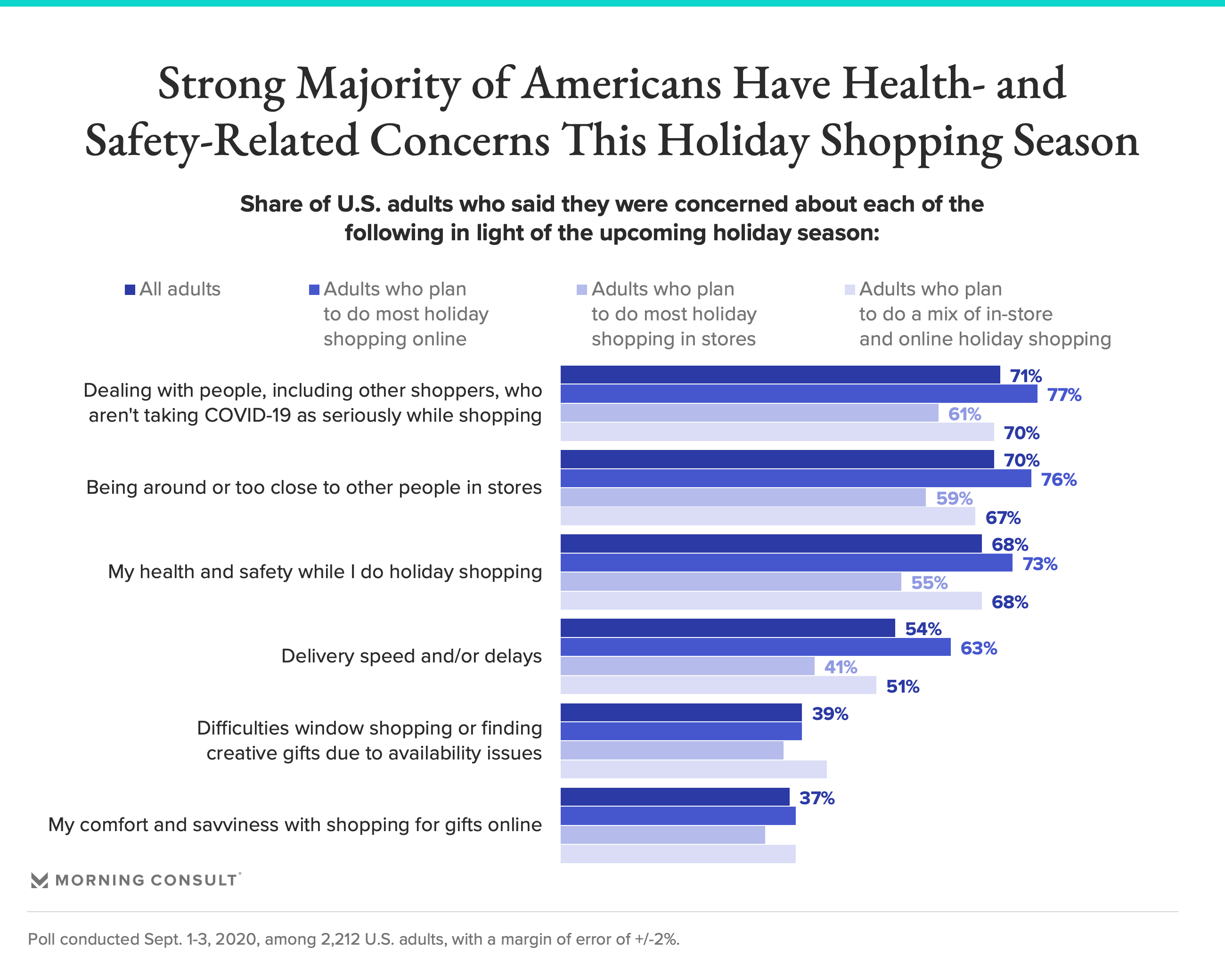 Reflecting these concerns as well as growing familiarity with and preference for online alternatives, holiday shoppers are uncomfortable going to shopping malls (59 percent) or shopping at either department stores (52 percent) or parking lot pop-ups/sidewalk stalls this holiday season (52 percent), though Republicans are much more comfortable going to shopping malls (51 percent vs. 41 percent all adults) and department stores (58 percent vs. 48 percent all adults). 
Conversely, most Americans are at least somewhat comfortable going to local stores
…