The writer formerly known as Eve Ensler has made some changes. First, there is her name. She is no longer Eve Ensler, not since writing her brilliant, blazing memoir, The Apology, which excavated the dead father who violently abused her throughout her childhood by jumping into his skin and speaking, chillingly, from inside his darkly skewed world.
She is now V, joyously freed from the last vestige of that prescribed paternal identity. She has always loved the letter besides, she says, with its shape of "two arms outstretched in opening" and all the other words its holds within its embrace: "Vulnerable. Vital. Voluptuous. Vulva. Venus. Verisimilitude."
And vagina too, of course, the V-word incontrovertibly linked to the award-winning American playwright, activist and performer, as a result of her groundbreaking play, The Vagina Monologues. That drama touched so many hearts – and nerves – that it sparked V Day, a global activist movement to end violence against women and girls.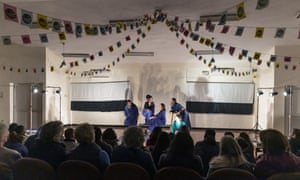 It is not often that a single work of art lights a match to a worldwide movement of such scope. Since 1998, V Day has raised $120m for grassroots anti-violence groups and spawned initiatives including City of Joy and One Billion Rising. V did not anticipate the drama's potential for transformation when she began performing it off-Broadway in 1996. "I was just hoping that somebody wouldn't shoot me. That was my greatest fear," she says, laughing. "What the piece taught me is that when you bust open something that people aren't talking about, all they want to do is talk about it and share their experiences."
Although her drama has remained at the heart of V Day for the past 23 years, the writer has decided that, though it will still exist as a performed work in its own right, it will no longer be the centrepiece. So, why must the play that created the movement be decommissioned?
Because it is time for other voices to be centred, says V on a Zoom call from upstate New York. "I have become profoundly aware of my privilege and my platform as a white woman, and I've felt a deep desire to recentre voices inside this campaign, particularly the voices of black women throughout the world. Everything we've seen in recent months – the rise of racism and fascism in this country and throughout the world, the rise of police killings from Breonna Taylor to George Floyd, on and on until [Walter] Wallace in Philadelphia, to the 400 years of racial oppression, slavery, Jim Crow, mass incarceration, the insidious denial of rights, and particularly the attempt to invisibilise black women in our culture – led me to this."
What comes in its place is Voices, a campaign grounded
…
Read more