A five-inch stack of old Telegraph newspapers is perched on the front seat of the bashed-up Subaru, while in the back is a long stick for fending off cows. At the wheel is Ann Sevier, a 13th generation commoner whose family has lived in the New Forest since 1650.
"Hello everybody!" she yells to the livestock as she pulls up in the car. We are in Latchmore valley near Fordingbridge, where more than a hundred cows and horses have gathered in the cool breeze that tumbles off the surrounding hills, providing respite from biting insects (behaviour known locally as "shading"). It resembles a congregation of animals you might see around a waterhole, except the horses have letters branded on their backs.
The ponies are excited by our arrival, particularly one male who mounts another behind the car. The abundance of poo and tightly-grazed grass suggests this is a popular haunt. Livestock from four miles around come to stand in this cool valley during the summer months. "They've been doing that all my life and all my father's life. They've probably been doing that since the last ice age. It's just a question of knowing the land," says Sevier.
In the evening, once the insects have quietened down, the livestock will move back up the hills to take advantage of the longer grass and graze into the night. This large-scale movement of herbivores is replicated in many valleys over the 219 sq miles (566 sq kms) of the New Forest national park, creating a scruffy mosaic of habitats. Free-roaming herbivores are ecological architects, and beyond the modern pressures of rising house prices, people leaving litter, and debates about over-grazing, this is a farming system that has changed little in 1,000 years.
The New Forest is lowland heathland, a landscape created by people constantly using the land for grazing and removing things like bracken for bedding and wood for construction. These materials are no longer valuable so lots of lowland heathland has become overgrown or been developed on – around 80% of the UK's lowland heathland has been lost in the past 200 years. The New Forest – home to Dartford warblers, nightjars, woodlarks and curlews – is one of the last remaining strongholds of heathland habitats in the UK.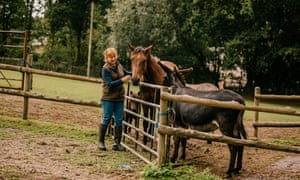 Like livestock, people are also wedded to this land and knowledge is passed down through generations. The right to be a commoner is attached to land and not bloodlines (perhaps why so many are resistant to moving out) and there are 700 New Forest commoners, some of whom have up to 300 livestock. Old institutions protect these practices – the Verderers' Court deals with those who break forest law (by trespassing, for example), and New Forest ponies are still sold in guineas.
Commoners have a right to pasture, mast (acorns in autumn) and fuelwood. The rights to marl (clay to improve agricultural
…
Read more