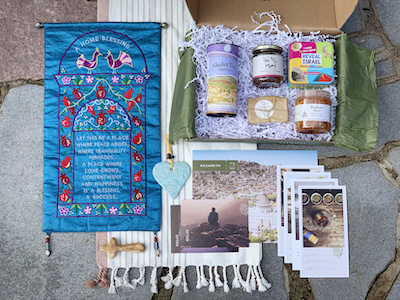 A holiday subscription box by Artza is bringing the Holy Land into the homes of people all over the world who aren't able to visit Israel due to COVID-19 travel restrictions. 
The gift boxes contain food, crafts, and other items made by Israeli artisans from the Holy Land. 
Itai Schimmel, the founder of Artza, told The Christian Post that the items "are relevant to the life of Jesus and the Bible, and tell the story of the place, both past and present." Each product comes directly from the labor of Israeli artists and is shipped directly to the customer every three months.  
The boxes contain up to nine artisanal goods and tell the stories behind them.
Just in time for the holidays, the Bethlehem birthplace box features products from Nazareth, Jerusalem, Galilee and Bethlehem, with some items featuring depictions of the Nativity. The collection includes a welcome note that details the history of the items, handmade artisan gifts, artwork, and food products.
The boxes also include gifts to share, such as postcards of Holy Land sites with accompanying descriptions, family games, and short tutorials on basic Hebrew phrases.
The following is an edited transcript of The Christian Post's interview with Schimmel who explains why he chose to create the boxes for Artza customers. 
CP: Can you briefly share your faith testimony?
As someone who moved to Israel over 10 years ago, I feel a deep connection to the Land of the Bible and its people. One of the special things about living here is that even every day, seemingly mundane events take on such deeper meaning. I can be riding the train from Jerusalem to Tel Aviv, look outside the window, and remember that if the hills could talk they would tell incredible stories of the thousands of years of history and faith. I can be driving to the Dead Sea with friends and see sights mentioned in the Bible. It's truly a blessing to live in this incredible mix of modern and ancient, mundane and spiritual.
CP: Can you share why you chose to create these gift boxes? 
In any given year there are about a million Americans who come and visit the Holy Land. For many, it truly is a trip of a lifetime — a chance to walk the Land of the Bible, connect more deeply with their faith, and meet the incredible people who live here. 
This year, with COVID, tourism obviously ground to a halt and we saw an opportunity to deliver a small piece of the Holy Land to those who could no longer come visit, along with the millions of Americans across the country for whom the Holy Land is
…
Read more