News
Then there were all the happy tears.
---
Family, for better or worse, is a major part of our wedding days. Sure, sometimes we deal with an overbearing mother or mother-in-law, or must figure out a way to accommodate an extra cousin who mysteriously appears day-of. But then there are the other, special elements — many of which can be found throughout this bright, colorful garden-inspired Morris House Hotel wedding and reception at Loews Philadelphia Hotel. Case in point: The bride's 94-year-old great aunt served as the flower bearer, and the couple paid homage to their family through the generations with a photo display. And then there were all of the happy tears. (Take a look at another one of our favorites here.) Experience all the sentimental moments, captured by JD Land from Salt & Sonder Studio, below.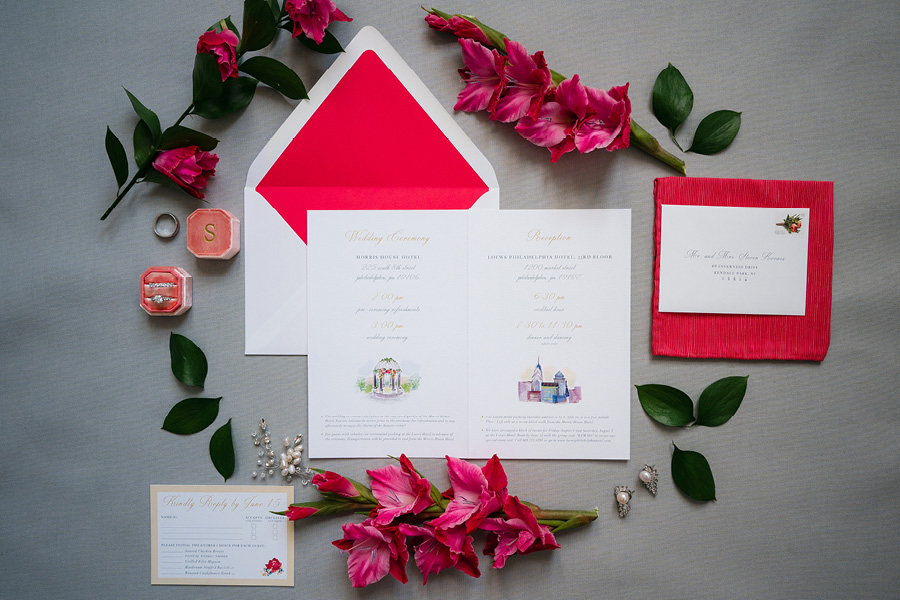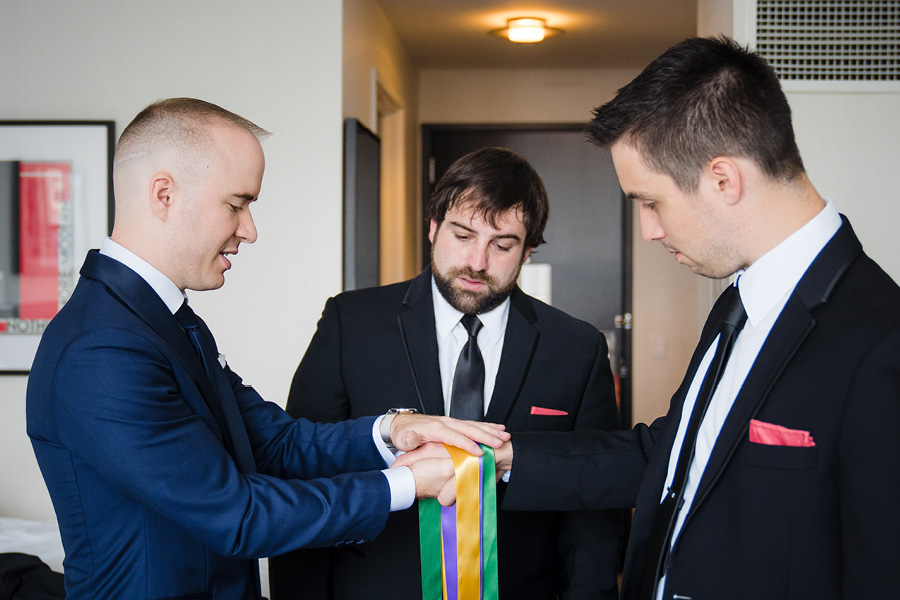 Stephanie Kovacs was just like one of the guys before she and future hubby Sean Flynn ever crossed paths. The summer after her freshman year at Drexel, she stayed on campus and became good friends with Adam Lynn, one of Sean's Lambda Chi Alpha fraternity brothers (and future groomsman). She also got to know many of the other fellas in the group. Sean didn't meet her till later that year (when she was hanging at his frat house), but it was an instant connection. "Conversation flowed so easily between us," says Sean, a civil engineer. "I was amazed that she actually wanted to talk about things — anything, everything." Friendship followed, and their first date took place in July 2013 — well, kind of. Sean asked Stephanie, a user experience graphic designer and freelance artist, to grab cheesesteaks at Tony Luke's, but Adam invited himself to tag along. "I don't think he knew Sean meant for it to be a date," says Stephanie with a laugh.
Their actual first date took place about a week later, at Route 6, followed by their first date as a couple on August 3rd at the former M restaurant at the Morris House Hotel. Sean had made the reservation a month in advance. "He was betting on us working out," says Stephanie.
They were together for four years (plus their nine months of friendship) before Sean proposed during a trip through the National Parks, including Zion in Utah. Their first hike of the trip was Angels Landing, which rewarded them with gorgeous views of the natural wonders at the top — also the site of Sean's proposal. "I had clutched the engagement ring through airport security, across the country, and carried it up a mountain checking every five minutes that it was still in my pocket," he says. "It was time to let
…
Read more