Before the surprise announcement from Netflix that the hit show GLOW would not be returning for an already-announced final season, the women of color of the main cast wrote a letter to the show's executive producers about how they felt the series perpetuated racial stereotypes.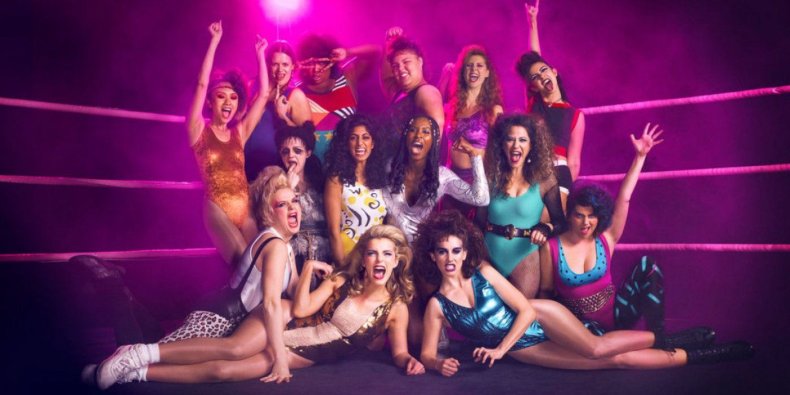 Last night, Sunita Mani, who played Arthie Premkumar on the Netflix comedy about a female professional wrestling promotion in the 1980s, shared the letter on her Instagram page. Soon thereafter, the other actresses also posted it. Here is Mani's post, which also includes a statement about the letter:
The letter was signed by Mani, Shakira Barrera, Sydelle Noel, Britney Young, Kia Stevens, and Ellen Wong.
Mani noted in the accompanying statement that the producers heard the actresses' grievances and responded to their call to action.
"They were in the process of making Season 4 reflect some of the systemic problems we outlined. I was so afraid to speak on these issues to my bosses, whom I respect and I think are so brilliant, but was deeply moved by the support of my fellow cast mates. This was a huge deal — creating space for change — and it was a testament to the love and support that was, by no twist of fate, an intentional element seeded by our show's creators and germinated in the entire cast," Mani wrote.
In the letter, the women wrote, "As the principal women of color on a show tackling racist and offensive stereotypes, we have felt disempowered throughout our time on GLOW."
The letter continues by stating that each of the women had expressed their concerns individually, including at character meetings. Too often, they said, they were being used "to serve the in-depth white storylines" as "sidekicks to elevate white leads" rather than fleshing out their own stories.
The actresses also voiced displeasure with the fact that the show was marketed as a diverse ensemble, though it contained "zero persons of color in the writer's room" during the past season. They called on the show to hire an executive producer or consulting producer of color, "fully address how portraying stereotypical and racially offensive wrestling personas has impacted our character's professional lives and personal dignity," and to "amplify our voices and our importance within the season narrative."
The letter was drafted and brought to the show's producers during the coronavirus shutdown. The letter explained that the killing of George Floyd and the Black Lives Matters protests against police brutality and racism that ensued motivated their need to fully speak out.
The actresses still professed their love for the show and expressed gratitude about the opportunity to be a part of it, as well as made a point that in no way was the letter meant to disrespect their white co-stars, but simply to "elevate us all in a deeper, more significant way."
Earlier this month, Netflix canceled the show after 3 seasons, citing the ongoing pandemic would make filming particularly difficult given the physical contact needed for film wrestling sequences. In Mani's statement, she wrote the letter was written while they all anticipated returning for the final season 4. She wrote that she decided to make the letter public "because it encapsulates such a personal journey of GLOW and Season 4 would have been such a catharsis; posting this is acting as some personal closure for me."