Lumiere and Mrs. Potts want you to wear a mask.
In a parody of Beauty and the Beast's "Be Our Guest," the singing furniture and kitchenware encourage everyone to use protective face coverings in order to curb the spread of the coronavirus. YouTube user Noah Lindquist shared the video on Saturday. Since, his Disney-inspired tune has garnered over 500,000 views.
"Wear a mask, wear a mask… is this really much to ask???" the candlestick sings to start the song, the original version of which was written by Alan Menken and Howard Ashman. "Tie some fabric 'round your face. Oh, it's the simplest of tasks!" Lumiere then lists places folks should wear masks, and denounces anti-mask theories that may exist.
"Stop the lies, stop the fights. No one's taking away your rights!" he adds. "All this speculation makes me need a flask."
Despite the clever lyrics sung by the French candlestick, Mrs. Potts easily steals the show—and even drops an expletive here and there. "You can shout, you can glare. But listen, Karen, I don't care," the teapot sings. "Never seen folks so dramatic over a f**king piece of fabric."
"We've got a lot to do, and it's not 'just the flu,' so wear a mask," Mrs. Potts notes.
The satirical tune even gives a shout-out to Director of the National Institute of Allergy and Infectious Diseases, Dr. Anthony Fauci. "'Till we put this damn pandemic in the past…try not to be so grouchy, has some faith in Fauci! Wear a mask!"
Lindquist's parody was well received in the video's comments. "This is BRILLIANT! The anthem 2020 needed," one person wrote. "You rhymed grouchy with Fauci. You win. You just win," another person said.
"Mrs. Potts, the sensible person we all need right now," a third noted.
One user asked Lindquist for another parody, and suggested another beloved Disney tune. "This is so unbelievably good, please make more. Hercules 'I can keep the distance,'" they said.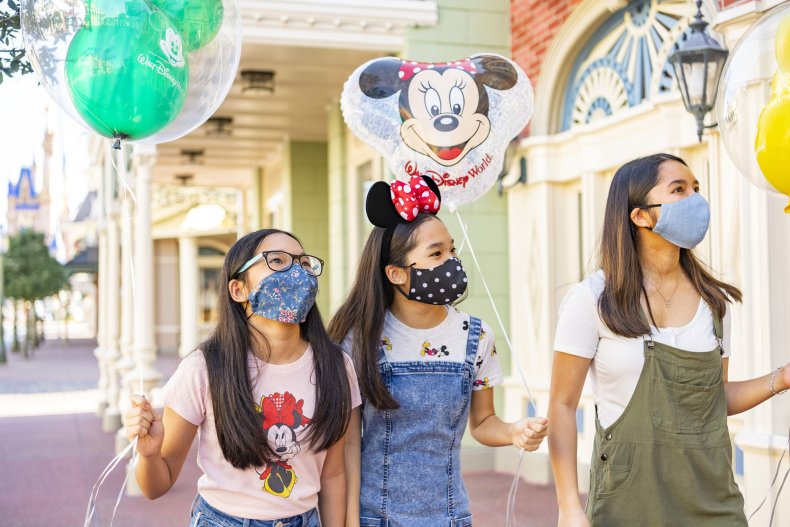 This isn't the first incredibly catchy showtune parody to inspire people to wear masks. In June, Randy Rainbow released "Cover Your Freakin' Face," which is sung to the tune of Bye Bye Birdie's "Put on a Happy Face."
"You're looking awful grouchy, cover your freakin' face," Rainbow belts out. "Listen to Dr. Fauci, cover your freakin' face."
The Centers for Disease Control and Prevention recommends wearing a protective face covering to curb the spread of the coronavirus. According to Worldometer.info, as of writing, the United States has recorded over eight million coronavirus cases, and over 220,000 deaths.